In honor of the forthcoming Olympic games, we wanted to pay tribute to furniture and accessories that we already consider "metal winners" from designers the world over. They will add just the right amount of gold, silver or bronze (or copper) shimmer to your space.
La Rosa Brass Fruit Bowl from Alessi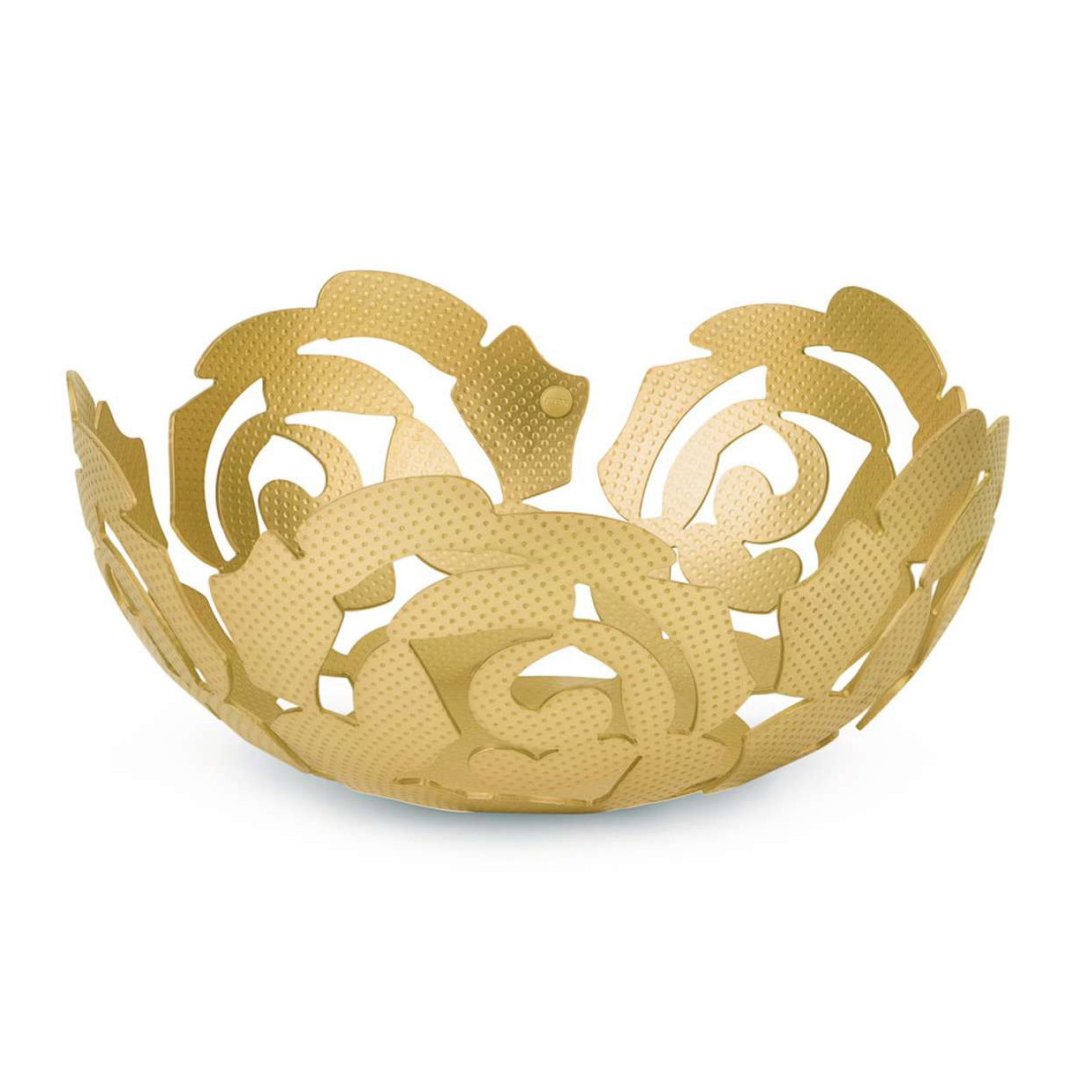 While the La Rosa Bowl has been around for a while, this brass incarnation is brand new. The laser-cut roses are only enhanced by the matte brass, while a fine dot relief pattern gives them touchable texture. The bowl can't help but make apples or oranges–or whatever else you may display in it–seem more glamorous.
Etch Tea Light Holder from Tom Dixon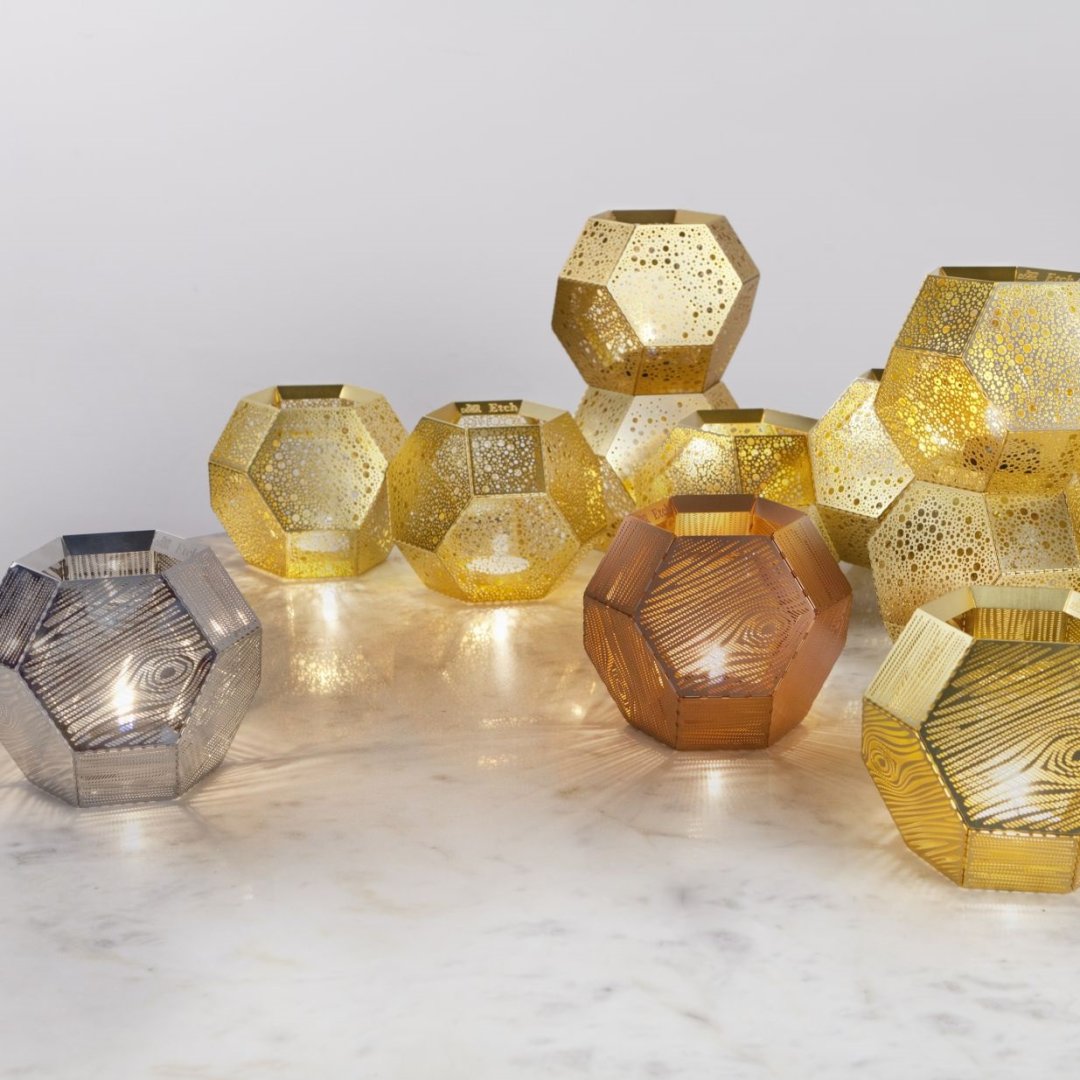 There's no stopping the shine of this perpetual favorite. Launched as part of "Flash Factory" at the Tom Dixon stand at the 2010 Salone Del Mobile (Milan), the Etch collection includes a variety of digitally etched candle-holders and pendant lights.
Made by employing an industrial process used to produce electronic products, including circuit boards, the method allows for intricate detailed patterns to be cut directly onto the metal. The geodesic structure is made up of sections of 0.4mm etched brass sheets inspired by the logic of pure mathematics. The detailed pattern creates a mass of intricate shadows when lit.
Precious Stone Stool from Kartell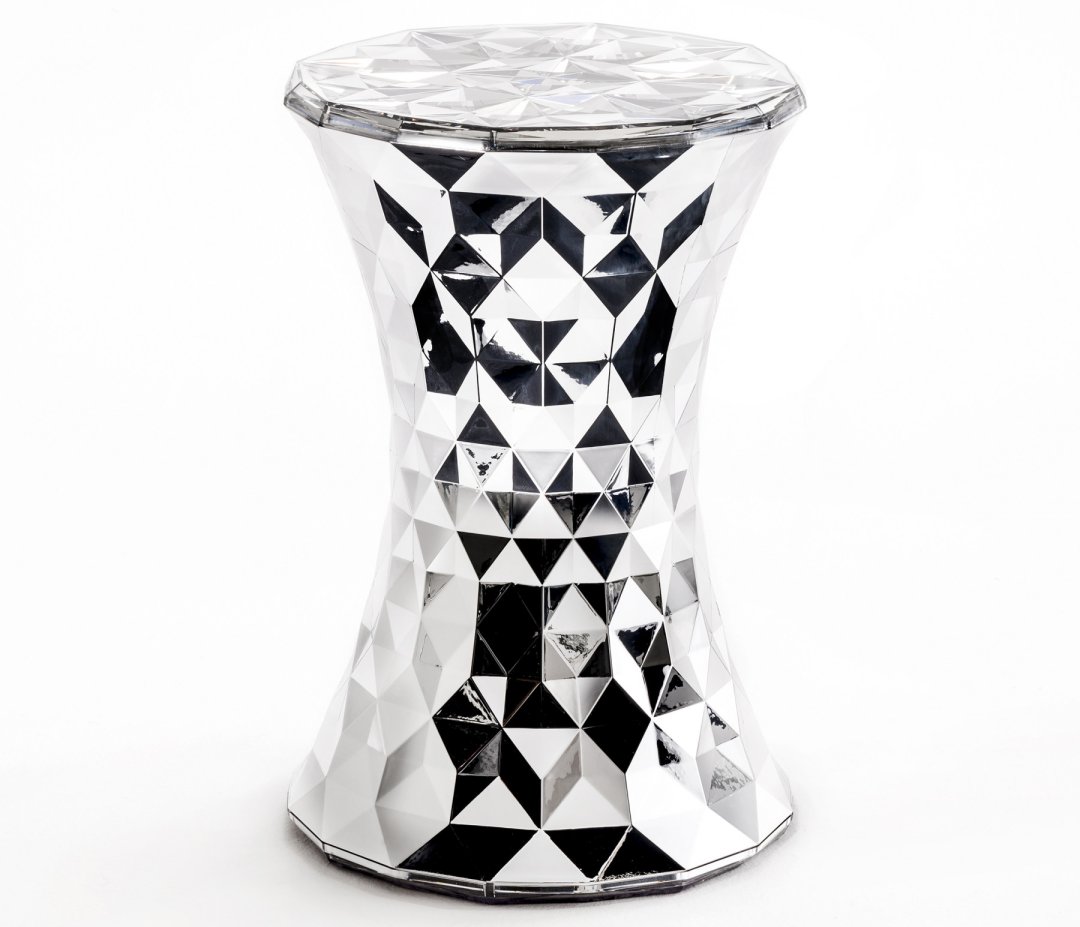 The Precious Collection elevates the look of Kartell's most popular, iconic designs–as well as the aesthetic of your modern spaces–with a knock-out range of metallic finishes. This includes the Precious Stone Stool. With a shape reminiscent of an hourglass, its surface is simply extraordinary: it's irregular and comprised of a myriad of geometric facets, which create a striking and unique play of light, much like a diamond.
Copper Real Good Chair from Blu Dot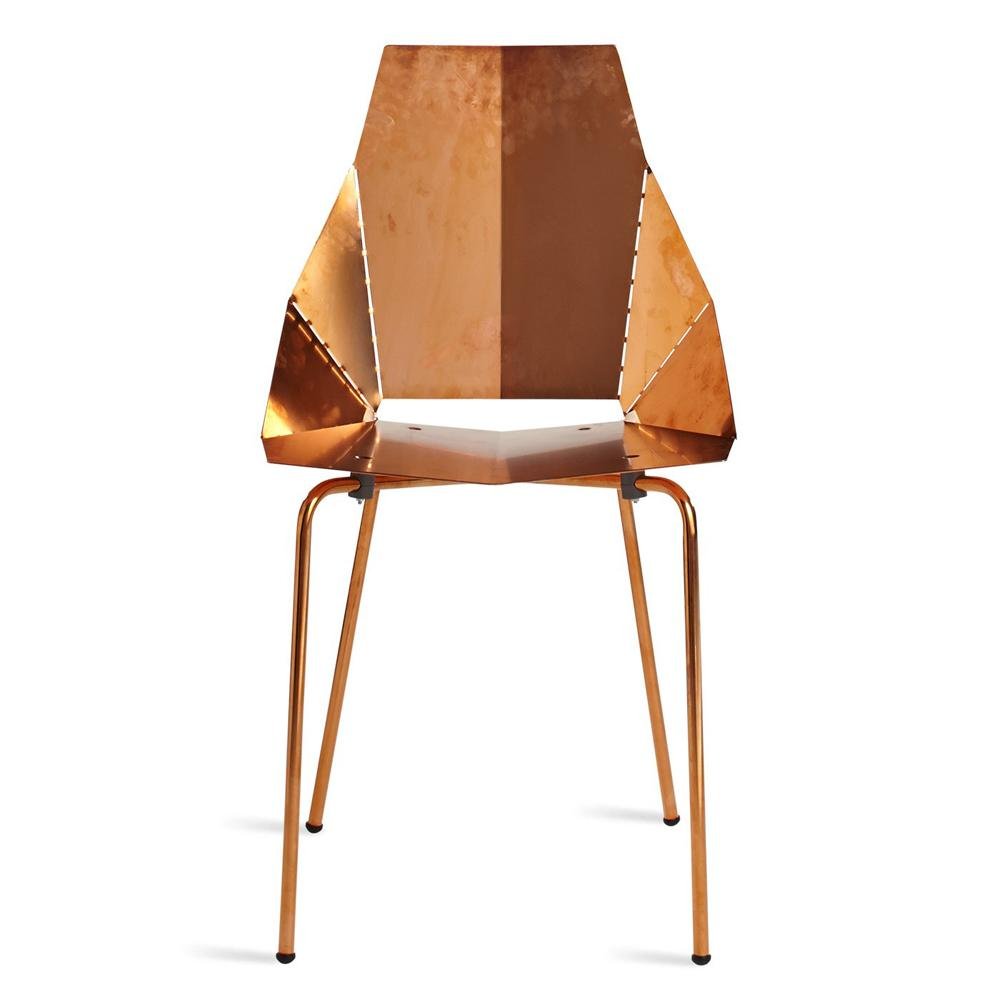 The bent, laser-cut, and super cool Real Good Chair, now in a Copper plated finish. Intended to patina naturally with handling and age, Real Good Copper takes on its own unique appearance as it ages oh-so gracefully. As with the original, this version ships flat and folds along laser-cut lines to create a dynamic and comfortable chair.
Bronze Drum Table from Thayer Coggin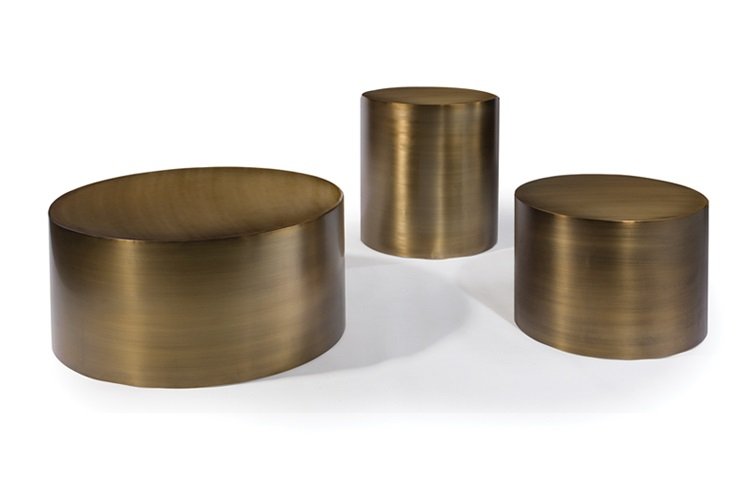 As you might guess, this coffee/side table is made out of bronze and looks very much like a drum. The Bronze Drum Table offers simple sophistication and a range of sizes to fit into any modern living space.
Stripy Vase from Bosa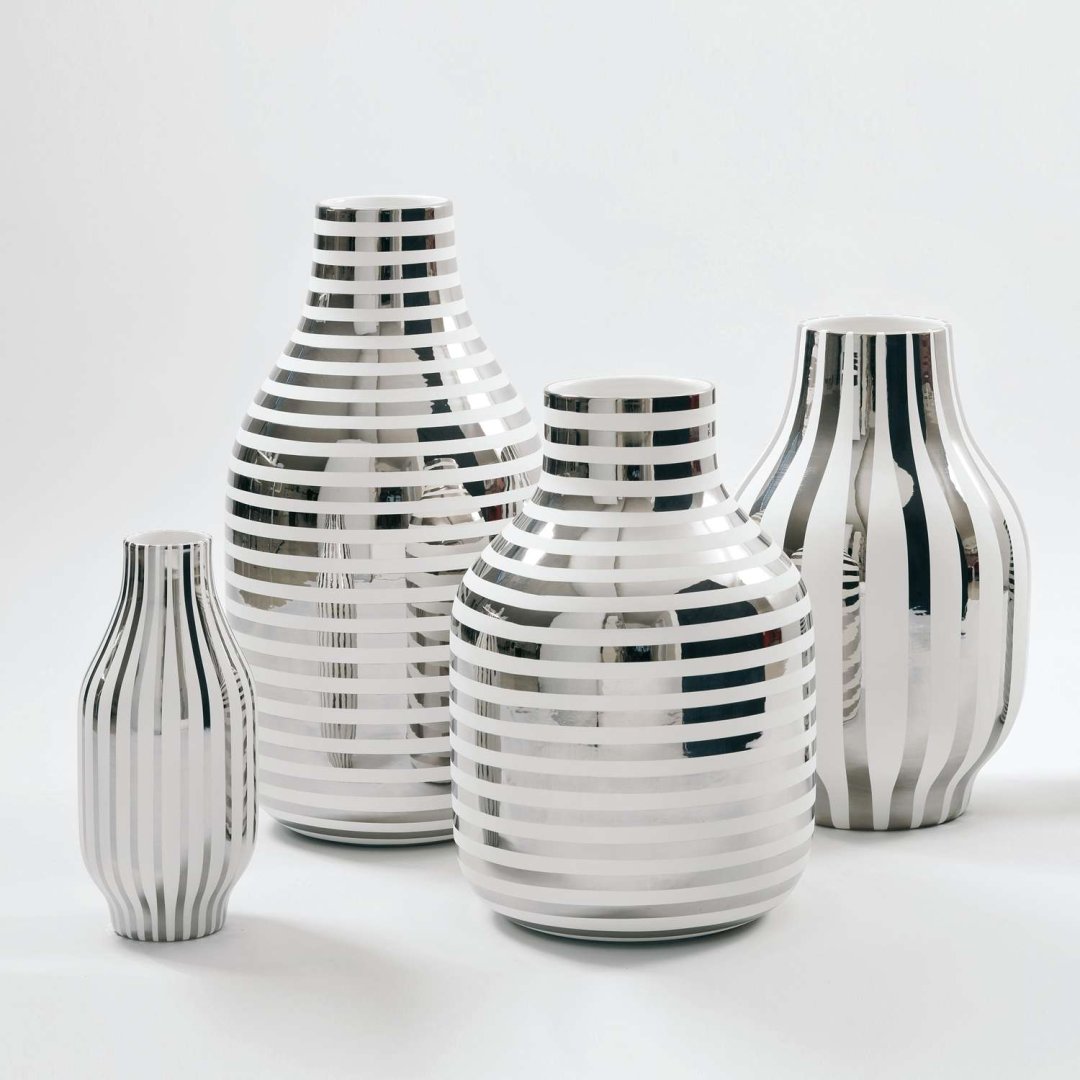 Get your modern metallic and patterned decor fix taken care of in one fell swoop. The Strypy Vase comes in a range of curvy sizes with–you guessed it–bold, alternating metallic and white stripes.
My Robot, Gold Limited Edition from Seletti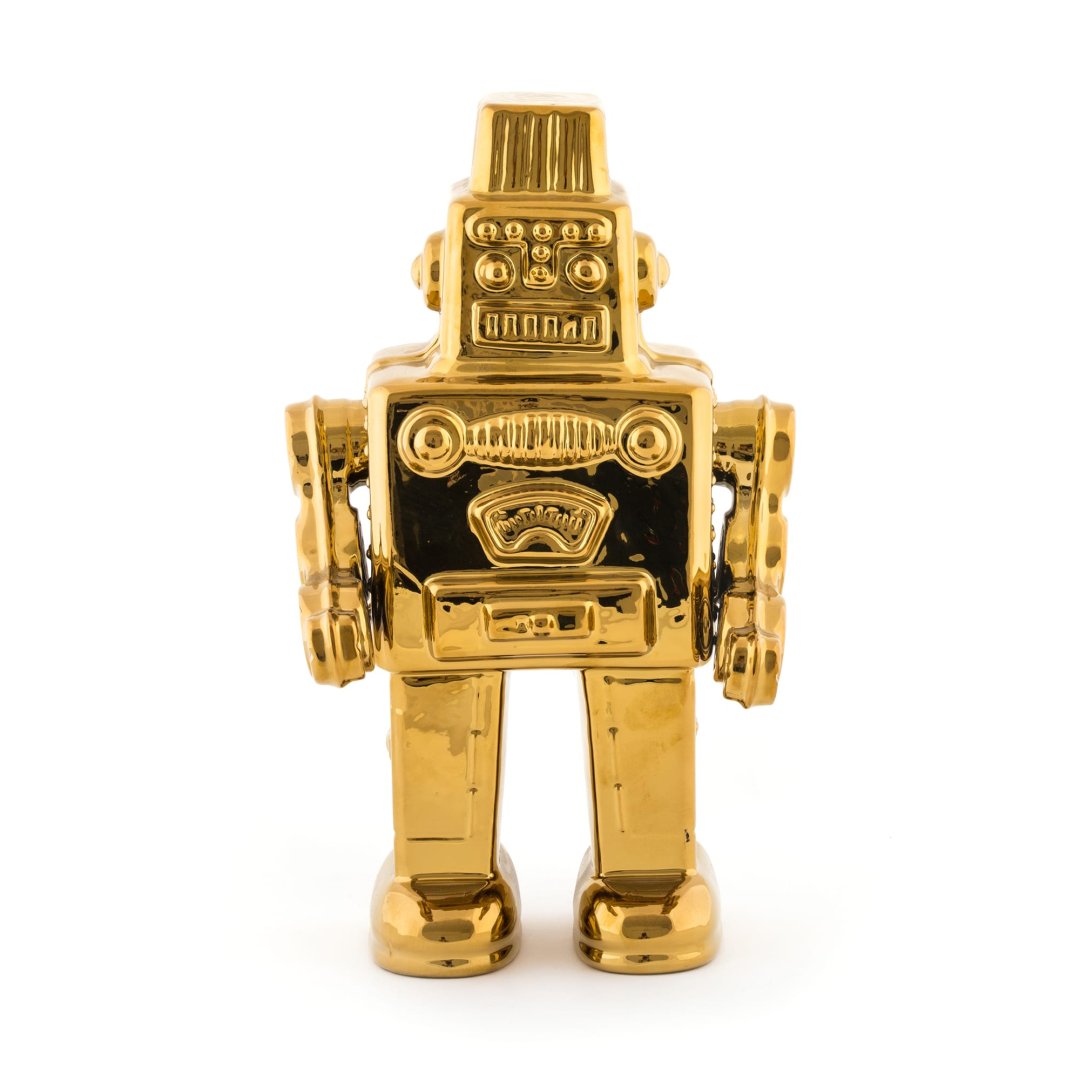 My Robot, Gold Limited Edition from the Memorabilia Collection calls to mind images of retro science fiction books and movies. Memorabilia takes on an extra layer of significance through its connection to historical events and the culture of entertainment while simultaneously connecting one to personal and social memories of days gone by. This porcelain robot recreates a souvenir evoking treasured memories of a special time and place. Immortalize those days of space adventures and men from Mars with the Memorabilia My Gold Robot.
Washington Skeleton™ Plated Aluminum Chair from Knoll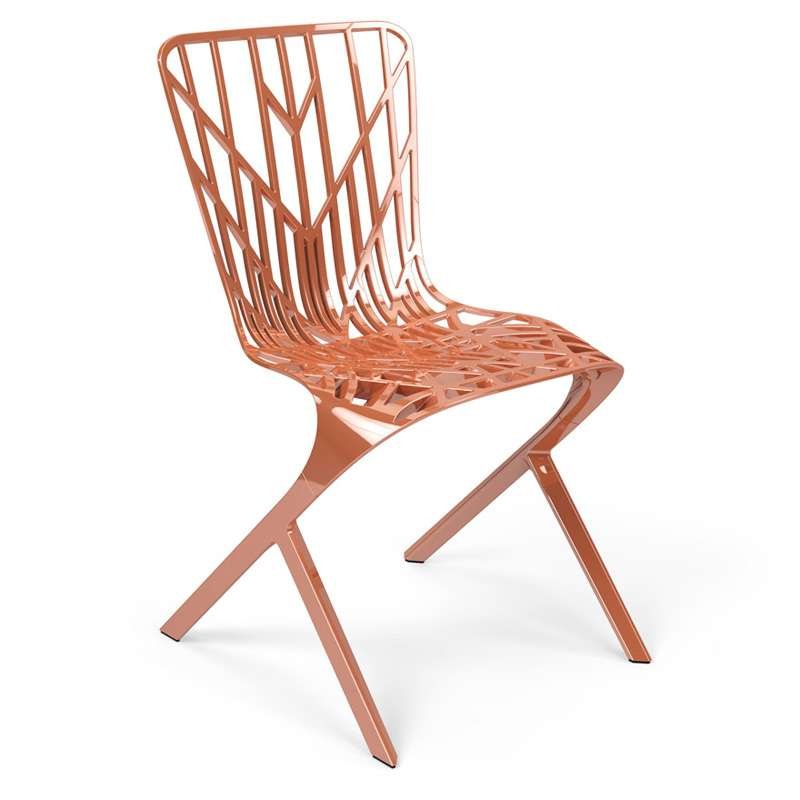 With its cantilevered structure and intricate lattice pattern, the Washington Skeleton™ Aluminum Plated Chair is both functional and sculptural. It is made out of die-cast aluminum with a copper-plated finish that gives the branched pattern the look of a bare tree glowing in the warm light of an autumn sunset.
Glacier End Table from Gus Modern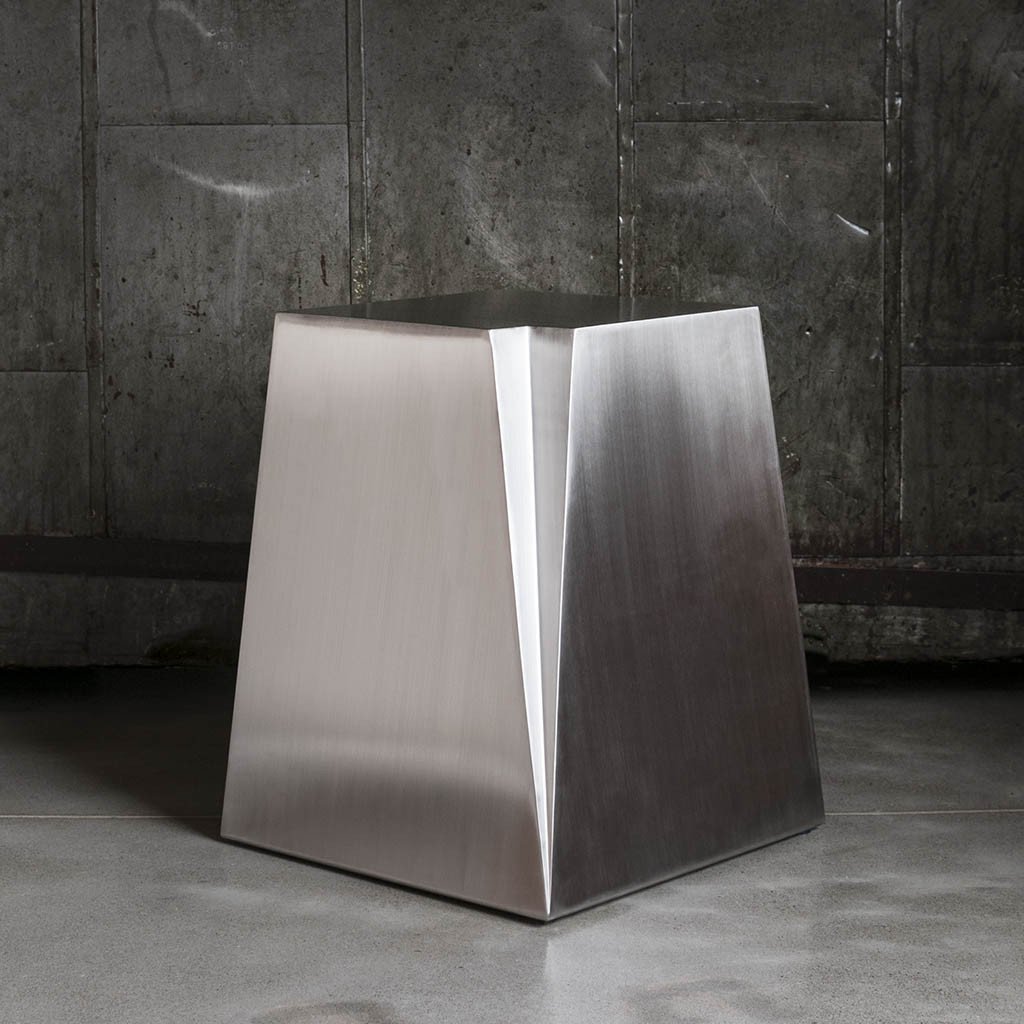 One pretty, petite monolith. The Glacier Side Table was designed with simple, sharp lines to resemble a glacier. The silvery brushed stainless steel manages to enhance that icy impression while also giving the table a somewhat industrial, futuristic sensibility.
Tangle Vase from Stelton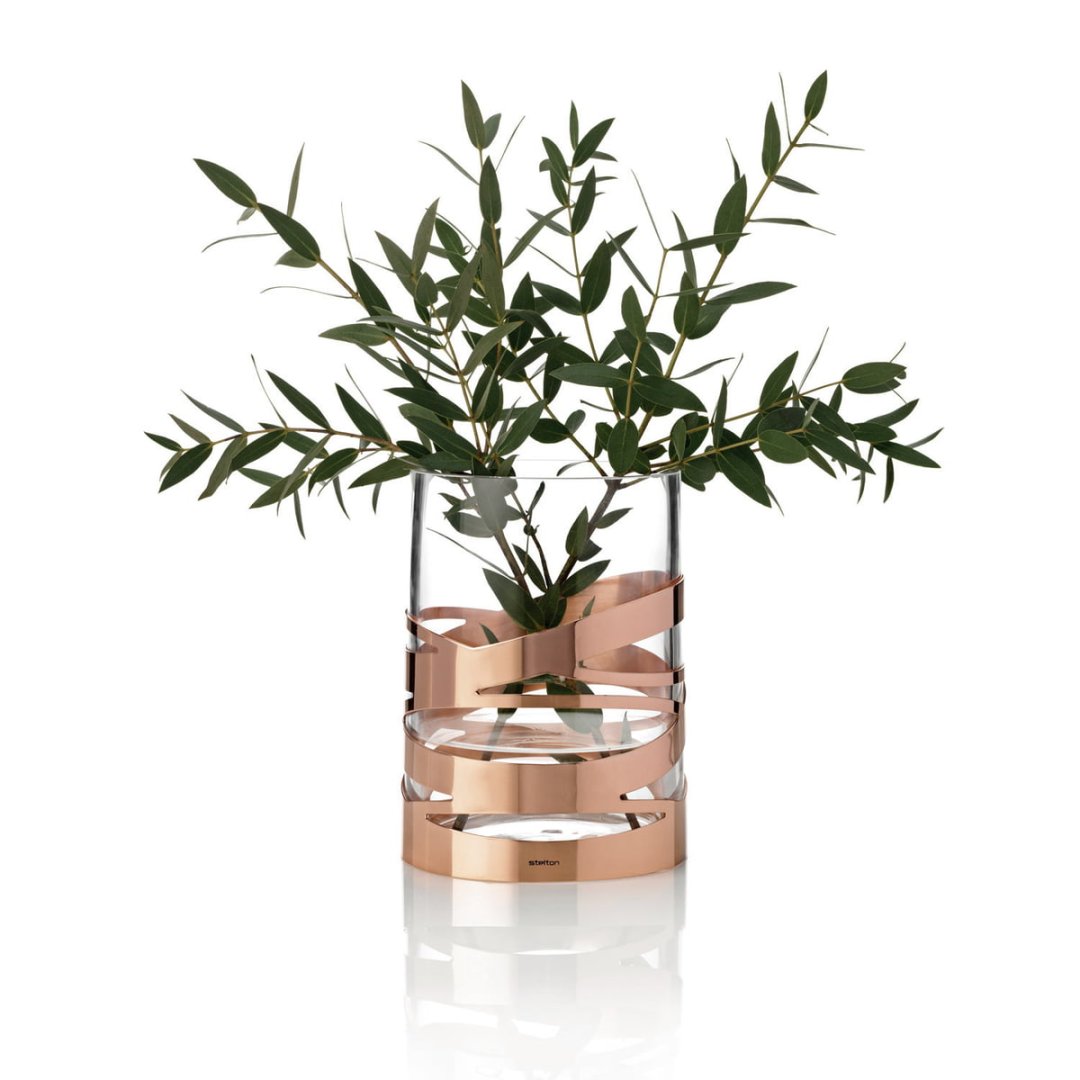 Finally, infuse some copper shine and metallic edge into your home decor with the Tangle Vase. Around a clear glass sleeve, a decorative band of copper has been lacquered to preserve its shine. The pattern of the copper band is unpredictable, so it adds a dynamic and ever-changing appearance to the vase depending on the angle you are viewing. If you are looking for quality, style and grace, the Tangle Vase represents it all. The copper band decoration may also be removed for additional looks.
Team Y
Team Y is a dedicated group of design devotees. We love everything that has to do with modern design, from products like lighting, furniture and decor all the way to interior design, architecture and city planning. What inspired the design? How does it work? What does it mean? We want to know. And once we know, we are constantly inspired to share what we've discovered with others who love design as well. That's Y.