Modern Coffee Tables | YLiving
Modern Coffee Tables
root
YVLV27
StandardColor|Shape
null
Showing 1 - 24 of 240 Results
Style & Structure, A Modern Coffee Tables Role
A modern coffee table is an essential part of your living room. It is the centerpiece of your contemporary space, used for a variety of reasons. Whether you need to rest your morning coffee, TV remote, or book, a mid-century coffee table and alike are there to fulfill that purpose. Modern coffee tables come in a variety of shapes, sizes, and designs. Durable and functional, the coffee table is an understated and beautiful element in homes and offices.
Variations of the Modern Coffee Table
As the hub of the living room, the coffee table provides the seating area with multi-disciplinary features to make you as comfortable as possible. A modern sculptural coffee table with a minimalist design may provide aesthetic value to your living room. Such a coffee table, a piece of art on its own, is meant to stylize your space and would display best without too many additional accessories on its surface. The most functional coffee tables establish an organized living room structure with features such as built-in magazine holders, shelves, and hidden cubbies. Functional or stylistic, you can select the best shape, size or design to meet your needs.
Furnishing with a long coffee table would satisfy your need for surface space on either end of a long sofa or opposing sofas. Coffee tables in round, oval, and square shapes allow you to mobilize around easier than longer shapes. But sometimes the size of the living room is not the only factor to consider when selecting the shape of your coffee table. It's important to have a living room that is well balanced with shapes that complement each other. A living room with a long sofa, media center, and accent bench may appear small and too cluttered with an additional long piece like a rectangular coffee table. Instead, balance the room with a round or square coffee table. To further customize your coffee table, select from our array of material options from glass to wood. Our finish selection will not disappoint design lovers from the mid-century to the eclectic era. Find your favorite tables in white, black, green or purple.
Whether you are looking for a coffee table to accessorize your living room or to increase organization, YLiving has the best selection of coffee tables to choose from. YLiving offers free shipping on most orders and no sales tax. For any questions regarding coffee tables, we have a team of experts that are happy to answer any technical or design questions at (866)428-9289.
Related Products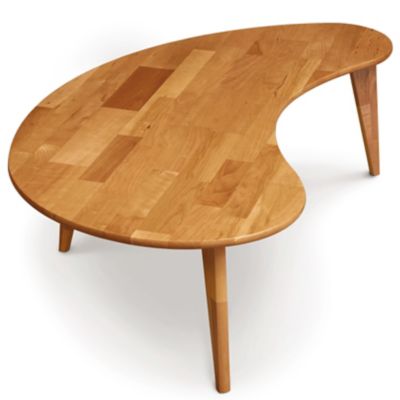 Made in Vermont by Copeland Furniture. The Essentials ...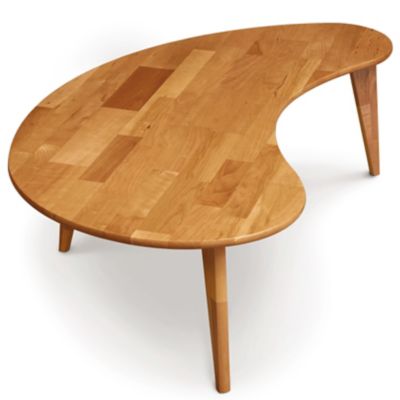 Description:
Made in Vermont by Copeland Furniture. The Essentials Kidney Shaped Coffee Table utilizes recovered wood, including a range of size, natural markings and coloration, resulting in solid hardwood surfaces with significant character and interest. A special offering, this coffee table ...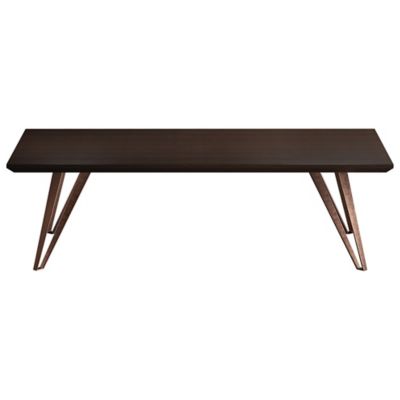 Standing tall, the slim profile Grand Coffee Table ...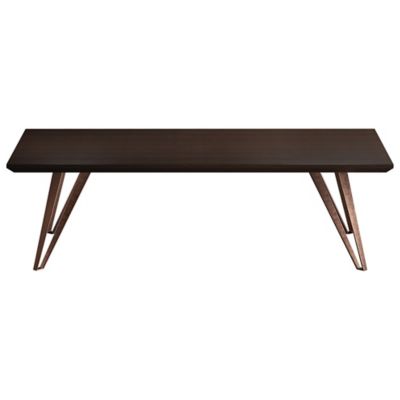 Description:
Standing tall, the slim profile Grand Coffee Table keeps your urban space feeling open while giving you the space you need for setting down your glass or entertaining with others. The angled anodized copper legs add a distinctly modern touch ...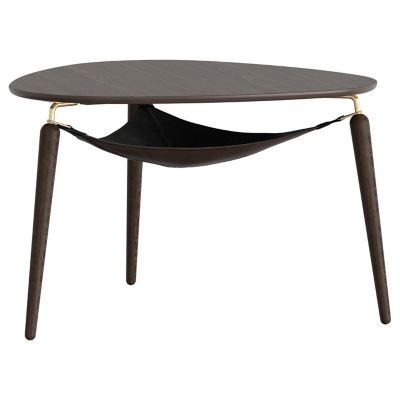 The Hang Out Coffee Table by UMAGE is ...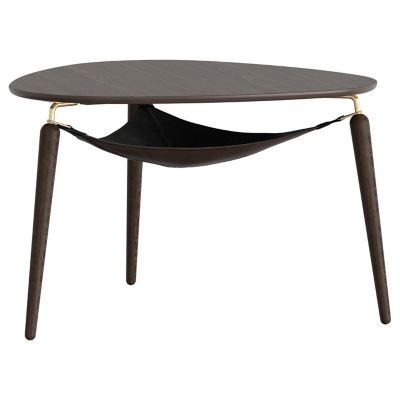 Description:
The Hang Out Coffee Table by UMAGE is a classic Scandinavian design that boasts a clean, minimalist, and organic shape crafted with wood and fine metal detailing. Its light and airy profile is accentuated by the graceful legs attached to ...