Modern Dining Side Chairs & Arm Chairs | YLiving
Modern Dining Side Chairs & Arm Chairs
root
YVDN9
null
null
Modern Dining Side Chairs & Arm Chairs
Showing 1 - 24 of 526 Results
Adding Modern Dining Chairs to Your Modern Dining Room
When it comes to bringing personality into indoor spaces like kitchens and dining areas, modern dining chairs bring a cohesive look to contemporary, traditional, or minimalist décor styles. The best modern dining chairs consist of a combination of high-quality craftsmanship and forward-thinking design that easily adapts to special occasion entertaining or everyday, casual use. With a plethora of designs, colors, and intended uses, there is a lot to consider when picking out the perfect dining room seating.
Top Modern Dining Chair Brands
When choosing dining chairs for modern spaces, there are several important things to consider. The first and perhaps most important consideration is the size and type of dining table, which generally serves as the focal point of the room. Intuitively, traditional oblong, round, and rectangular tables look best when paired with traditional style seating. However, when modern dining chairs are paired with a traditional dining room table, a truly unique and spectacular display results. Dining room chairs can also be swapped out to give a space an updated look.
Next, consider how the dining chairs will be used. If family gatherings are a frequent occurrence, it may be best to choose dining tables and chairs made of durable materials that will easily withstand years of consistent use. For ultra-modern dining arm chairs and side chairs, Kartell offers a range of eye-catching options made of durable dyed polycarbonate in neutral colors such as Matte Glossy White, Transparent Crystal, and Matte Glossy Black as well as bright colors including Transparent Orange and Transparent Cobalt. For a cohesive look, chairs of the same size, color, and material can be used, while mixing chair sizes and colors creates a playful and relaxed look.
When it comes to choosing contemporary side chairs, there are hundreds to choose from. For dining room seating inspired by mid-century modern design, Modloft offers various options ranging from mixed media bucket-style seating to fabric-covered structured arm chairs. For highly contemporary or minimalist spaces, Vondom has an impressive selection of modern dining chairs suitable for both indoor and outdoor dining areas, including space-saving stackable options, chairs with wired geometric bases, as well as weather-resistant polycarbonate chairs in matte and glossy finishes that coordinate with optional seat cushions.
Other Important Considerations
Aside from room size, décor style, and the way in which the space will be used, choosing dining room chairs should also reflect personal style and offer a high level of comfort for all who will use the furniture. Ease of maintenance is also an important consideration and stain resistant fabric or leather upholstery are the best choices for dining areas where food and drink spills are likely.
The dining room seating presently available is a result of innovative design, sturdy yet attractive materials, and an emphasis on functionality. Choose contemporary dining chairs that not only complement existing furniture and decorative accessories but also encourage conversation and foster a sense of relaxation and comfort for your dining room. Today's modern seating styles prove that it is no longer necessary to sacrifice comfort in favor of style.
Related Products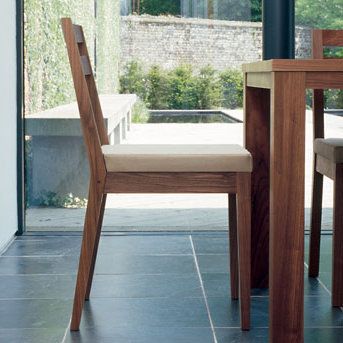 Made in Portugal by De La Espada. A ...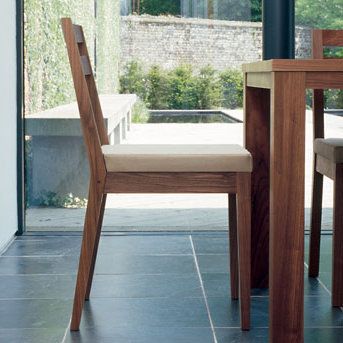 Description:
Made in Portugal by De La Espada. A classic design that features crisp upholstery and elegantly tapered legs. A utilitarian design that is simply exquisite with any dining table. Available in American Black Walnut and American White Oak finished with ...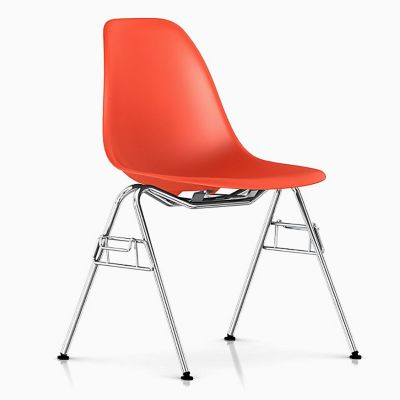 The Eames® Molded Plastic Side Chair, Stacking Base. ...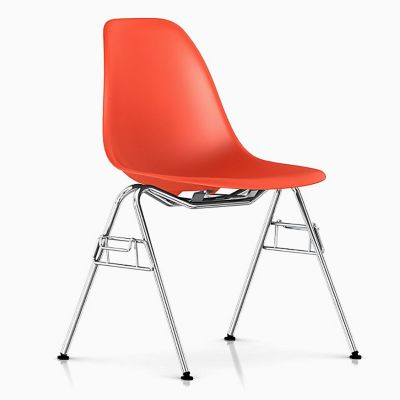 Description:
The Eames® Molded Plastic Side Chair, Stacking Base. A clean, simple form sculpted to fit the body; first presented at the Museum of Modern Art in 1948, and still popular today. The chairs are produced locally in Michigan by Herman ...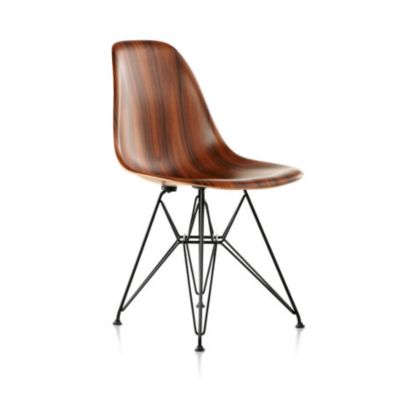 Herman Miller's new interpretation of the Eames Molded ...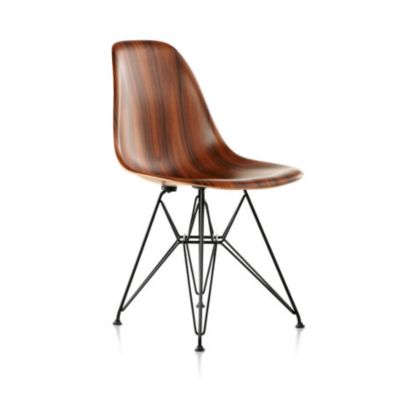 Description:
Herman Miller's new interpretation of the Eames Molded Wood Side Chair with Wire Base acknowledges the Eames' vision of continued exploration, refinement, and discovery. The side chair achieves its rich aesthetic with the help of a 3-D veneer technology. This ...