Modern Lounge Chairs | YLiving
Modern Lounge Chairs
root
YVLV15
StandardColor
null
Showing 1 - 24 of 354 Results
A State of Relaxation, The Modern Lounge Chair
It's a popular destination amongst living room, bedroom and office dwellers and their guest... Enjoy being in a state of relaxation and making use of the various ergonomic perks that lounge chairs offer. Set the style of your modern living room and take your pick from our premium collection of mid-century, modern and contemporary pieces alike from designer modern lounge chairs with ottomans and chaises to swivel and rocking features. When you have the moment to relax and spend some quality time with your family or need to provide a comfortable lounge chair for clients in a waiting area, you want to own the most suitable option in your space of choice. YLiving offers various lounge chairs to complement your design and lifestyle needs.
Modern Lounge Chair Trends and Features
The Eames Chair: Several popular lounge chairs like Eames comforted families wide and far in the mid-century era. The Eames Chair produced by Herman Miller has upheld its originality while becoming one of the most influential lounge chairs up to date since it's debut in 1956. You may ask, how does such a traditional lounge chair maintain its fame without hardly any aesthetic innovation... It starts with quality. The Eames chair was developed by Charles and Ray Eames to have a warm receptive look, similar to a vintage leather baseman's mitt. The sanitary and cradle-like lounge experience is a well-known design perk to the Eames Chair, furthermore sophisticated by a tufted back and seat; keeping it relevant today. As a lounge chair, Eames develops charming characteristics over time due to the natural aging process of genuine leather.
Swivel - A swivel chair can boost work performance by reducing strain and increasing mobility. Such chairs often swivel a complete 360 degrees, allowing you to work freely in any direction you need to face without getting up. Other important features found on these chairs include armrests, supportive cushions and various adjustments for ergonomic advantage.
Chaise - Characterized as a long lounge and low couch, a contemporary chaise offers exclusive lounging with luxe features such as various back heights, lengths, armrest options, and plush cushions.
Recliner - A recliner allows you to lean back in a resting position with the possibility of increasing blood circulation throughout the body. If you enjoy adjusting your armchair to specific reclining positions, this is the ideal choice for you.
Ottoman - The delightful ottoman is an ideal pairing for armchairs and recliners, made to elevate your lounge experience by raising your feet to an ideal height as enjoy you sitting in a deep plush cushion.
Whether you are looking for a modern lounge chair from an iconic designer, a specific shape, size, or color from white to black, YLiving has a wide range to choose from. These comfortable chairs and chaises are great for relaxing and lounging. At YLiving, we offer the best in modern home furnishings and modern accessories with thousands of designs from more than a hundred well-known and upcoming brands. For any questions regarding furniture and lighting at YLiving, we have a team of experts that are happy to answer any technical or design questions at (866)428-9289.
Related Products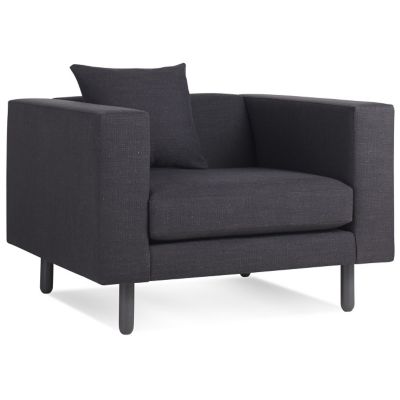 The Mono Lounge Chair from Blu Dot elevates ...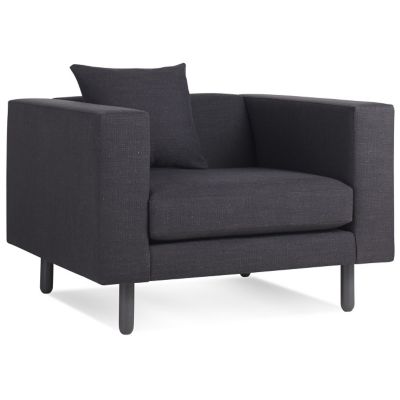 Description:
The Mono Lounge Chair from Blu Dot elevates a minimalist frame with monochromatic styling and a perfectly tailored presence. The low-profile lounger begins with durable, kiln dried hardwood frame construction. The structure is upholstered in a polyester/linen basket weave fabric ...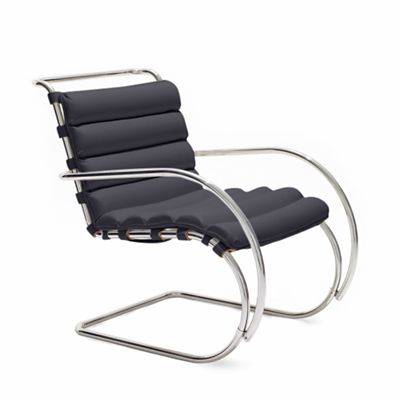 Influenced by Marcel Breuer's use of tubular steel, ...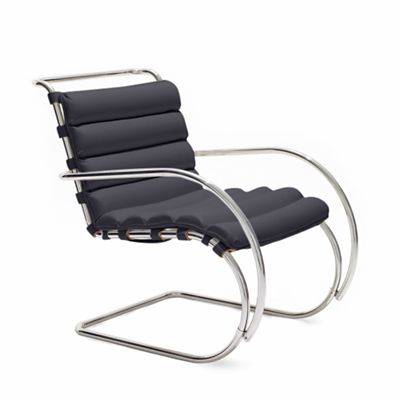 Description:
Influenced by Marcel Breuer's use of tubular steel, Ludwig Mies van der Rohe quickly recognized the compatibility of this revolutionary material with the contemporary design ethos. Inspired by the lines of tubular iron rockers designed in Europe during the mid-19th ...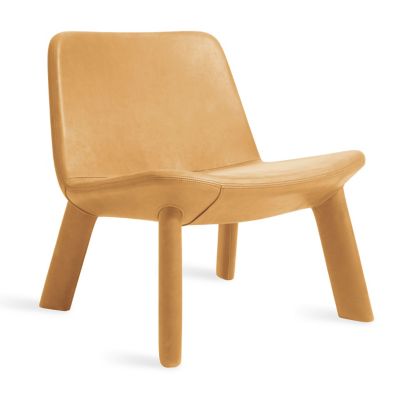 The Neat Leather Lounge Chair by Blu Dot ...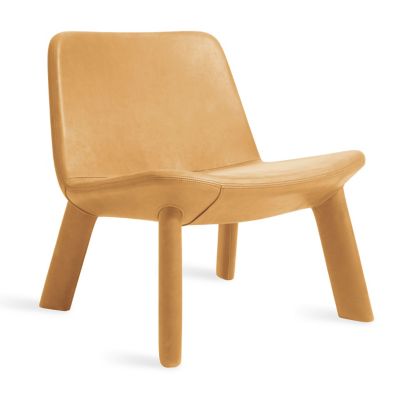 Description:
The Neat Leather Lounge Chair by Blu Dot brings luxe to living spaces, conversation areas and offices. It's completely upholstered for a simple design that includes clean lines and inviting softness together in one tidy package. The rich upholstery has ...