Modern Outdoor Dining Tables | YLiving
Modern Outdoor Dining Tables
root
YVOT22
null
null
Modern Outdoor Dining Tables
Showing 1 - 24 of 181 Results
Why a Modern Outdoor Dining Table is a Must
The modern outdoor dining table is a staple of modern outdoor furniture. As the centerpiece of your outdoor space, it is the heart of the dining and entertaining experience. Whether you just want to really enjoy a quiet outdoor dinner or you regularly host large backyard gatherings, having the right modern outdoor dining table will make all the difference.
Without an outdoor modern dining table, you are significantly underusing your backyard or patio. A modern outdoor dining table set can transform your space in both function and beauty. In terms of function, outdoor dining table sets provide an essential space for dining, sitting, or relaxing for everyday use. It's also is a vital surface for entertaining whether you are hosting a large dinner party, backyard barbecue, or poolside bash. In terms of beauty, outdoor dining tables can freshen your space and accent your landscape.
Where to Use Your Modern Outdoor Dining Table
Outdoor dining sets will be a perfect addition to your space no matter what your layout is. Modern outdoor dining table and benches would make a great welcoming space for your large patio. A smaller size table would be excellent for smaller patios or balconies. If you have an underutilized backyard, putting an outdoor dining set near your garden would allow you to enjoy nature every day.
Modern outdoor dining tables are also a must by the water. Placing an outdoor dining table by the pool is a perfect way to entertain while enjoying a swim too. If you are hosting a beach bash you can increase the seating options for your guests with an outdoor table. You can warm up after taking a dip by placing your table by one of our stunning modern outdoor fireplaces.
Modern outdoor dining table sets are also a perfect way to transform the look and feel of your landscape. No matter where you end up using your modern outdoor dining table you can be sure it will elevate the look of your space.
Choosing the Right Style for Your Modern Outdoor Dining Table
Not only do you want to make sure your dining table matches your modern outdoor dining chairs, but you should consider the shape, size, and style you prefer. Whether you are looking for a classic or mid-century modern outdoor dining table, you are sure to find the perfect table for your outdoor oasis.
If you are looking for simple elegance you might be interested in Knoll's Saarinen Round Dining Table. Featuring a round, beveled-edge table top and available in stone or slate, this magnificent piece offers versatile, effortless design that is sure to withstand use throughout the generations.
If you are seeking a minimal and modern design then you don't need to look any further than the Saarinen Round Dining Table by Cane-line. Constructed with an aluminum frame and thin cement table top, this statement piece offers a touch of raw authenticity and natural durability.
However, if you are looking for a sleek, classic look then you will be dazzled by the 1966 Collection 38-Inch Rectangular Dining Table. This award-winning design is constructed with the best modern materials and can be customized in color and top material to make sure you get exactly the look you need for your outdoor space.
Once you have selected your perfect new modern outdoor dining table, you'll want to upgrade your entire outdoor space by taking a look at our wide selection of outdoor side tables and modern outdoor decor.
Related Products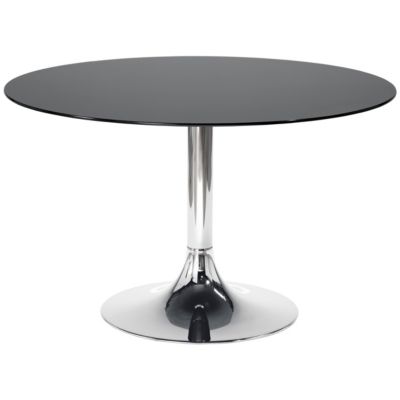 The Corona-120 Dining Table is basic by design ...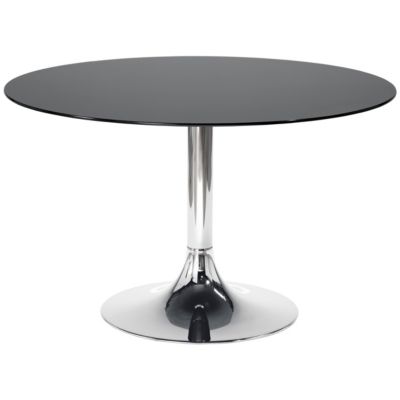 Description:
The Corona-120 Dining Table is basic by design though far from ordinary, featuring a round tempered glass top lofted on a sleek white pedestal base. A variety of monochromatic color finishes offer a customized table top and base combination that ...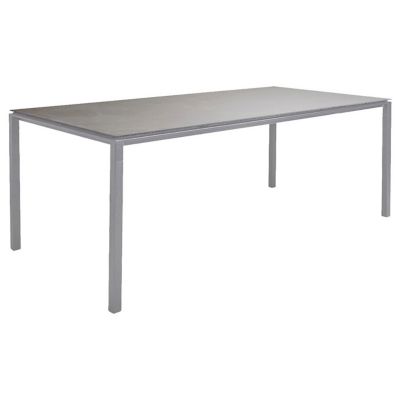 Designed for long-lasting value, the Pure Outdoor Dining ...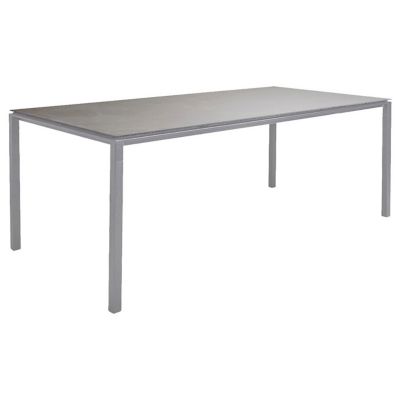 Description:
Designed for long-lasting value, the Pure Outdoor Dining Table from Cane-line stands up to sunny or rainy weather conditions with sharp, minimalist design. Clean lines created by Powder-coated Aluminum legs highlight the geometric appearance of the piece, adding excellent stability ...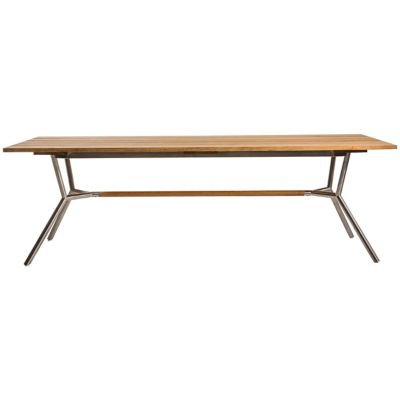 Design a beautiful and balanced space for outdoor ...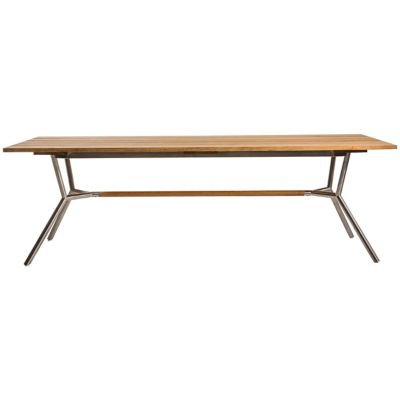 Description:
Design a beautiful and balanced space for outdoor gatherings with the Reef Dining Table by Oasiq. Simple lines, an expansive rectangular top and a sturdy trestle-style base provides the ideal setting for enjoying good food and great company. Its minimalist ...